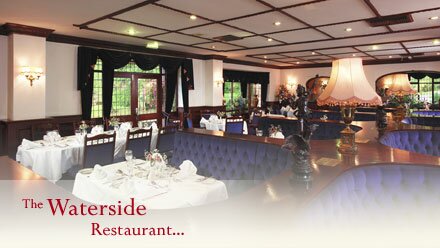 Whilst The Mill Hotel is perfect for all occasions, no visit is complete without dining in our Waterside Restaurant, often referred to as the jewel in our crown.
Overlooking the pool and gardens, The Waterside Restaurant is renowned for its fine cuisine, ambience and charm.
The Waterside Restaurant is open daily and every evening guests may choose from a special dinner menu set at a fixed price. The menu changes daily and offers a varied selection for each course such as oak-smoked chicken served on caesar salad topped with crispy bacon or chilled melon dovetail with wild berry coulis followed perhaps by pan fried sea bass fillet topped with prawn and herb butter or braised lamb cutlets on a bed of boulangere potatoes. The temptation of the sweet or cheese trolley and freshly brewed coffee complete a delightful dining experience.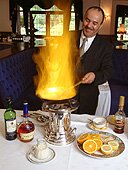 Regular visitors to The Mill Hotel have long enjoyed the Table d'Hote Luncheon Menu, available Monday to Saturday. You may choose just two courses or three depending on your appetite. Whatever your choice you can be assured of good service, a varied menu at an extremely competitive price.
The A la Carte Menu is always available with many flambee dishes cooked within the restaurant.
Sunday lunch is very popular – all the family are welcome and early reservations are highly recommended
On a warm day you may choose to have your drinks served on the patio beside the pool. You may prefer however the comfort of the lounge bar with deep comfortable sofas encouraging you to linger and enjoy the beautiful surroundings.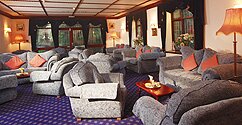 Private Dining
All of our banqueting suites offer the ideal setting for private dining and your choice will depend on the number of guests expected to attend. Click here to view all of our banqueting rooms.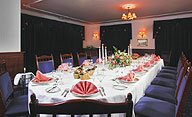 Search Engine Optimisation by Virtualnet